The fear of not being good enough is ubiquitous in humanity. Depending on how this fear was first experienced and what story we created around it, this fear can shape our lives and often does so unconsciously. Think about the following, when we are born, most of us feel unconditionally loved by our parents and we feel absolutely safe because we are being taken care of. When a woman is pregnant or breastfeeding or a father sees his newborn child their biochemistry changes and they are drunk with oxytocin (also called the "love hormone"). They shower us with constant unconditional love and attention. But that kind of love doesn't last forever and at a certain point in our early lives there comes an event where for the first time we don't feel that love, perhaps because we got yelled at, we got reprimanded or even worse they ignored us.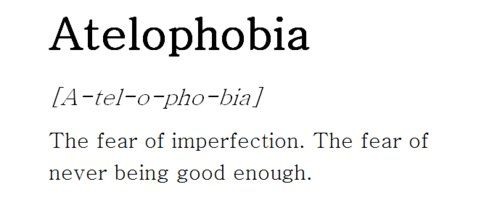 In that very moment we identify with the thought "I am not good enough" and we then ask ourselves "What did I do to lose this love and connection?" and so the fear of not being good enough is born. More important than the question of "What did I do to lose this love and connection?" is the next question we ask ourselves: "What do I do to get that love and attention back?" The behavior we unconsciously or consciously choose to get our parents attention and love can have the power to shape our destiny and it often does. Some people will try to walk or crawl and their parents suddenly give them attention, love and praise. In that moment the child feels this love and connection and from that moment on his or her story will become "I am an achiever. When I achieve something and I do things I am significant enough and I will get love and attention." Others break stuff or make a mess and their parents give them attention and their story becomes "When I make a mess or destroy stuff I am significant and get love and attention." Then there are others who make a funny face or noise, their parents laugh and their story becomes "When I make people laugh I am significant and I will get love and attention."
Obviously these examples are overly simplistic and there are more complex possibilities. For example let's say that a child was ignored by her father and she noticed that her father loved and lived for the success of his business. The child then unconsciously creates a belief "If I build a successful business, an empire and make a lot of money I will have my father's love and approval. When I do this I will be good enough." From that moment on the story she tells herself will shape her destiny and will be driven by her fear of not being good enough and the fear of not being loved. The sad reality is that even when she accomplishes her goals, she won't feel good enough or truly loved. And for the majority of people the fear of not being good enough will become a limiting belief that will stop them from moving forward in life and achieving their dreams.
The problem is that many of us are not even aware that we are running a story like this in the back of our minds but as adults we continue to ask ourselves "What do I have to do when I am uncertain that I am significant enough to be worthy of attention and love in this life?" Most of us will go back to that first behavior or story we created when we were children and "successfully" got back our parents love, approval, attention and/or appreciation. As adults we will do the same behavior to get love and attention not only from our parent but from our life partners, friends, strangers and co-workers as well. Some of us will create very dysfunctional stories and misconceptions on what is love and attention.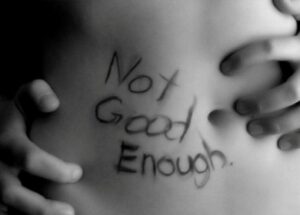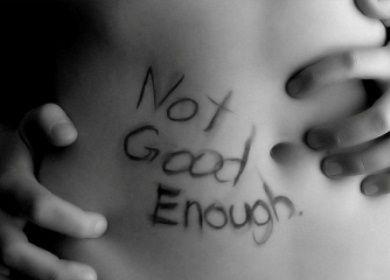 The fear of not being good enough affects your sense of self-power, self-esteem and our self image. Everything you attempt to do is controlled by your self image and how much you believe in yourself. The fear of not being good enough corrodes your confidence and certainty and it lowers our frequency. This is why you could have the best manifestation technique in the world but when you actually go ahead to take action and put the manifestation in motion that fear will prevent the manifestation from coagulating here in the 3D. When we have the fear of not being loved or losing love we will tend to create relationship dynamics based on co-dependency, the fear of abandonment and possessiveness. And because what we focus on and energize with our emotions is what we manifest, we will manifest the exact same thing we fear.
Now that we are adults we have the choice to become aware of these unconscious patterns and stories, we can choose to become the parents of our own inner child and provide him/her with the love and attention we crave instead of looking for it outside of ourselves. In order to fully transcend the fear of not being good enough and not being loved we must energetically clear the first past painful experience where we created this soul fragment and past identity of ourselves, plus all the experiences that resulted from this.
By working directly with your Higher Self we can identify and permanently clear the SOURCE of the fear of not being good enough and not being loved. Once you clear the core of these fears and all their ramifications, a space will open up in your mind, heart and soul to be filled with new cords, new templates and new soul programming from your Higher Self. This means new pearls of wisdom that will lead you to embody new higher ways of thinking, feeling and behaving.
If you desire to annihilate the fear of not being good enough and the fear of not being loved go ahead and schedule a session so we can work on:
1) Clearing the past analogical experiences where these fears were created.
2) Clearing the soul fragments and past identities related to these fears (including thoughtforms, personalities of other people).
3) Replacing the belief and neural net connections in your brain related to the belief you are not good enough.
4) Re-awaken your personal power and clear the source of low self-esteem and low-self confidence.
5) Activate your heart chakra to the frequencies of unconditional self-love.
6) Learn the unconscious fear ritual you have been playing and replace that with a new ritual of confidence, happiness and certainty (anchor this in your body).
7) Plus anything else your Higher Self guides us to work on.